19th Sunday after Pentecost; 2 Corinthians 11:31 – 12:9; Luke 6:31-36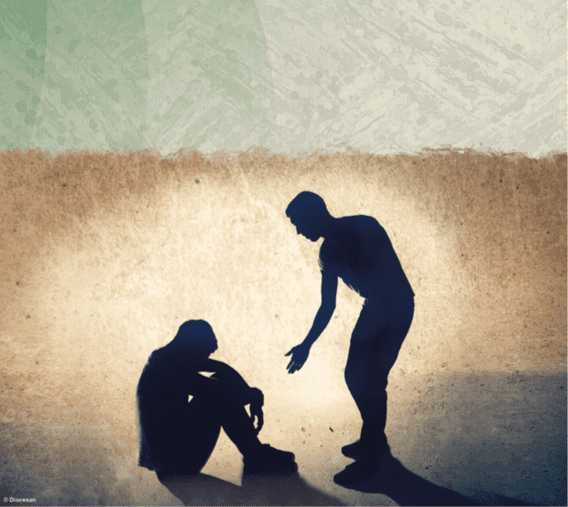 But to you who are listening I say: Love your enemies, do good to those who hate you, 28 bless those who curse you, pray for those who mistreat you. 29 If someone slaps you on one cheek, turn to them the other also. If someone takes your coat, do not withhold your shirt from them. 30 Give to everyone who asks you, and if anyone takes what belongs to you, do not demand it back.
RADICAL WAY OF LIVING THEN AND TODAY Jesus is proposing a radical, really radical message. No one is taught to simply stand there and get hit. We certainly aren't taught to give away our own clothing, nor to give to every single person. His point is that as Christians – as people of Christ – we must be patient, loving, accepting, kind, and to do so to everyone. Do I acknowledge the humanity of a homeless person by saying hello, by praying for their deliverance from addiction, mental illness, or poverty? Do I give to charities that help the homeless, the persecuted, or the sick? Do I curse those who have abused me, hurt me, even hated me? Or do I pray for them, show them kindness in return, hope that they get out of their anger and hatred? There's always a choice, always.
In World War II, the Axis invasion of the USSR was accompanied by the horrendous massacres of Jews, persecution of the Slavs, terrible destruction of towns due to the heavy fighting, killing of communists and people – rightly or wrongly – denounced as communists. The return of the Red Army was especially violent across eastern Europe, punishing anyone remotely connected to the German nationality or accused – rightly or wrongly – of having helped the Axis forces. On July 17, 1944,  Stalin had 57,000 captured German soldiers marched through Moscow. The people watched not with curses or assaults but in silence. And then women broke through the lines of the secret policemen and Red Army soldiers to take cups of water to those soldiers, to the hated enemy, literally following Matthew 10:42 and Mark 9:41 – whoever gives a cup of water in my name, shall have their reward.
But love your enemies, do good to them, and lend to them without expecting to get anything back. Then your reward will be great, and you will be children of the Most High, because he is kind to the ungrateful and wicked. 36 Be merciful, just as your Father is merciful.
We live in an era of cancel culture – a clip on the internet can result in me losing my job, respect from others, being denounced as a racist or a hateful person. Even if the clip is a short one, people jump on it. The Border agents were accused of whipping Haitians on the basis of one photograph, and politicians said they would pay for what they did. But they never did whip anyone – their horses have long reins. But all three men are now wicked racists who do violence to helpless immigrants.
No one is forgiven, no one is given the chance for explanation, no one is handed the chance to reform or learn from their errors – instead people are fired, reviled, despised, threatened and can have protestors on their front lawn or apartment door. Where is the teaching of Our Lord? Are we even willing to do what the gospel says: to give to those who have hurt us tremendously, to be those women in Moscow that hot July day? What reward do we want? Self-righteous pride and anger or being a child of the Most High God? Our society has so lost its way with the decline of church attendance and Christian values and it is the duty of every Christian to bring it back.
Saint Paul: He was caught up to paradise and heard inexpressible things, things that no one is permitted to tell. 5 I will boast about a man like that, This mystical experience of experiencing heaven itself, the very presence of God, comes after he has gone through so much. He gives a little verse at the start of his scary escape from Damascus, being lowered over the city wall in a basket, at night, in darkness, because of his preaching. But then God gives him this enormous, awesome, stunning consolation. God consoles him enormously.
but I will not boast about myself, except about my weaknesses. 6 Even if I should choose to boast, I would not be a fool, because I would be speaking the truth. But I refrain, so no one will think more of me than is warranted by what I do or say, 7 or because of these surpassingly great revelations. Therefore, in order to keep me from becoming conceited, I was given a thorn in my flesh, a messenger of Satan, to torment me. 8 Three times I pleaded with the Lord to take it away from me. 9 But he said to me, "My grace is sufficient for you, for my power is made perfect in weakness." Therefore I will boast all the more gladly about my weaknesses, so that Christ's power may rest on me.
Thorn in the flesh in the Old Testament did not refer to physical pain or affliction, but to attacks by one's enemies. Speculating on what he meant is useless – the Corinthians knew. Put into the context of his letter, it comes during all kinds of suffering during his mission: misunderstanding by other Jews, assaults by pagans, beatings to the point of being unconscious. Proclaiming the gospel was dangerous, as it is today. We may not be beaten to that level physically, but emotionally that can happen.
He boasts about his own limitations – he stuttered, he had obvious hardships, nowhere does he say that his family from Tarsus accompanies him – who boasts about their limitations? We live in a culture of promoting oneself, of pride, of striving for power, money, youth, beauty, perfection. We look up to athletes who throw a ball or use a bat and are paid millions upon millions of dollars. That's yet another sign of our American, our Western culture losing its way. People complain about 90 minutes in a heated church but sit for 3 hours in a freezing cold stadium to watch a football game.
What am I proud of? I should be proud of whether or not I love, whether or not I forgive, whether or not I am charitable to others and to organizations that help those in need or who are suffering or persecuted for their faith. We are a little parish – not even 80 households. But Paul was one man traveling on foot. We have a YouTube channel that can influence others for years to come, but even more so, we have the love for Christ, and His love for us, from the God-Man Who hung on the cross for hours in terrible agony, to teach us how to truly love, forgive, repent, and live a new life. I can give a cup of water, and change the world. Christ is among us.