THE REAL 'PRIVATE RYAN' AND THE CHAPLAIN WHO SAVED HIM
3/1/2019
by Lawrence P. Grayson
A WORLD WAR II STORY OF TWO KNIGHTS OF COLUMBUS INSPIRED THE BLOCKBUSTER FILM BY STEVEN SPIELBERG
Paratroopers poured from the sky before dawn on June 6, 1944, hurtling through fog and flak to the French countryside below. It was D-Day; the Allied invasion of Normandy had begun. In a few hours, 200,000 troops would land by sea, and the mission of these airborne units was to prepare the way.
Among those jumping into the dark were two members of the 501st Parachute Infantry Regiment, 101st Airborne Division: Father Francis L. Sampson, 32, the unit's regimental chaplain and a member of the Knights of Columbus; and Sgt. Frederick "Fritz" Niland, 24, the youngest of four brothers serving in World War II.
The story of Sampson and Niland, brother paratroopers and eventually brother Knights, would later inspire Steven Spielberg's epic film Saving Private Ryan.
On D-Day, Father Sampson parachuted into a river, cut off his gear and made his way to a French farmhouse where severely injured servicemen were being treated. As the area was about to be overrun by German troops, who were known to shoot prisoners, Father Sampson volunteered to stay with the injured.
Father Sampson was captured and put up against a wall. He was so frightened, he later said, that instead of praying the Act of Contrition, he kept repeating the Catholic blessing before meals: "Bless us, O Lord, and these thy gifts…." Incredibly, a Catholic German soldier recognized him as a priest, and he was spared.
As the Allied invasion continued, Father Sampson was allowed to stay at the aid station, where he shielded the wounded through a grueling artillery bombardment. Nominated for the Medal of Honor for his work tending to and evacuating these troops, he received the Distinguished Service Cross, the U.S. Army's second highest award for valor.
Meanwhile, Niland had been forced to jump early after his plane was hit by enemy fire. He landed miles away from his target and was behind enemy lines for nine days. He eventually rejoined his unit with help from the French Resistance in time for a key battle to secure the town of Carenten and link Allied forces at Omaha and Utah beaches.
It was near Utah beach that Niland sought out the chaplain, distraught at learning that his brother Robert, a paratrooper in the 82nd Airborne, had been killed June 6 and was buried about 20 miles away. Only a few weeks earlier, Fritz's oldest brother, Edward, had been shot down in Burma — missing in action and presumed dead.
The chaplain offered to help Fritz find Robert's grave and drove him from cemetery to cemetery, searching. When Sampson came upon the grave of Preston Niland, he showed it to Fritz, thinking that it had been recorded in error. "Father Sampson," the young man replied, "Preston was my brother, too." Unknown to Fritz, 2nd Lt. Preston Niland had been killed just a day after Robert, fighting on Utah beach. A check of a nearby cemetery revealed Robert's grave.
So, believing Fritz to be his family's only surviving son, the chaplain notified the War Department and initiated the paperwork to have him brought home.
Niland's parents, Michael and Augusta, must have been grateful to Father Sampson, but Fritz was not. Informed by Sampson that he was being sent back to the United States, Niland refused, saying, "I'm staying here with my boys."
Sampson replied, "You can take that up with General Eisenhower or the president, but you're going home."
In late summer 1944, Niland returned to New York, where he served out the rest of the war as a military policeman.
Father Sampson's role does not appear in Saving Private Ryan, as reality was somewhat less dramatic than the movie: Fritz was not lost, and there was no search for him. Reality was also less tragic than the movie: Fritz's brother Edward had survived and was found about a year later when a Japanese POW camp was liberated.
Shortly after returning home, Fritz joined Twin City Council 413 in Tonawanda, N.Y., on Dec. 1, 1944. He earned a degree in oral surgery from Georgetown University and established a practice near his hometown. He married and raised two daughters, Cate and Mary, and in 1983, he died at age 63.
Today, Cate Niland Remme still has vivid childhood memories of her father talking about the war.
"I will never forget the look in his eyes when he would recount the story to me and my sister, Mary," she said. "He told us, 'Girls, never forget that it took a presidential congressional order to get me out of France.'"
During one of Cate's last visits to her father, Fritz told her, "Make sure to honor all the men."
"So that's what we did at his funeral," Cate said. "We read off all the names of Company H."
Fritz was later interred at Fort Richardson National Cemetery in Anchorage, Alaska, where the 1st Battalion of the 501st Parachute Infantry Regiment is now stationed.
"We buried him on D-Day with full military honors," Cate added. "I always felt good that he would rest in peace with the 501."
LAWRENCE P. GRAYSON writes from Maryland where he is a member of Rock Creek Council 2797 in Bethesda, and Cardinal Patrick A. O'Boyle Assembly 386 in Silver Spring.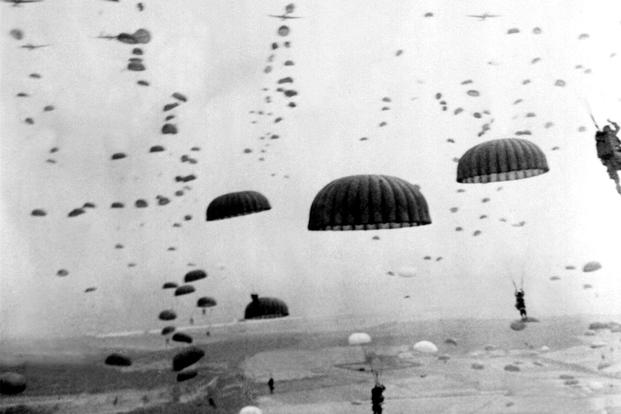 Paratroopers landing in the Netherlands, 1944
---
THE PARACHUTING PRIEST
THE PRIEST who "saved" Sgt. Fritz Niland had one of the most distinguished careers as a chaplain in U.S. military history.
A native of Iowa, Francis L. Sampson graduated from the University of Notre Dame in 1937 and was ordained in 1941. After serving for a year as a parish priest in Neola, Iowa, where he joined Neola Council 1115, he enlisted in the U.S. Army as a chaplain.
Sampson later admitted that he volunteered for airborne duty somewhat unwittingly.
"Frankly, I did not know when I signed up for the airborne that chaplains would be expected to jump from an airplane in flight. Had I known this beforehand," he said, "I am positive that I should have turned a deaf ear to the plea for airborne chaplains. However, once having signed up, I was too proud to back out."
Three months after his heroic efforts on D-Day, Father Sampson took part in an airborne assault on Holland, jumping behind enemy lines for the second time. The chaplain was later captured at the Battle of the Bulge and sent to a prison camp in Germany, where he spent six days in an overcrowded boxcar, sustained only by snow scraped from the top of the train. At his own request, Father Sampson was confined with the enlisted men, rather than the officers. James D. Alger, a fellow prisoner who later became a lieutenant general, said, "Father Sampson's misfortune in being captured turned out to be a blessing for the men he served in Stalag II-A. … God knew he was sorely needed there."
After the war, Father Sampson hung up his jump boots — but not for long.
In his 1958 memoir, Look Out Below!, he wrote that the life he briefly returned to in Iowa was in many ways ideal, but added, "I missed life in the Army; I missed most of all my soldier congregation."
He returned to active duty in 1946 and later served as chaplain of the 187th Airborne Infantry Regiment during the Korean War.
"Combat truly was a perfect laboratory for a priest's study and work," he wrote. "All the artificialities and superficialities of civilian life were cut away. There remained nothing but bedrock character…."
In 1967, Father Sampson was appointed Chief of Chaplains of the U.S. Army with the rank of major general. During the Vietnam War, he annually spent Christmas with the troops, and was untiring in visiting hospitalized soldiers. He also served as president of the USO from 1971-1974.
A 55-year member of the Knights of Columbus, Msgr. Francis Sampson belonged to Big Sioux Council 5029 in Flandreau, S.D., at the time of his death in 1996 — two years before the release of Saving Private Ryan. His tombstone bears the words: "Lord, make me an instrument of your peace."
— Lawrence Grayson