Jesus is the New Adam. Golgotha, the hill on which He was crucified, was said to be the tomb of Adam's skull, and so on crosses you often find a skull at the bottom of the cross. So the New Adam dies where the old Adam is buried. In the beginning of the Great Fast we were reading the Book of Genesis. In chapter 3, verses 17-18, Adam receives his punishment for trying to become like God: cursed is the ground because of you;     in toil you shall eat of it all the days of your life; 18 thorns and thistles it shall bring forth to you. Saint Cyril of Jerusalem says of this, For this cause Jesus assumes the thorns, that He may cancel the sentence; for this cause also was He buried in the earth, that the earth which had been cursed might receive the blessing instead of a curse.
Our Lord suffers greatly so as to redeem Adam, all of us, each of us, every one of us, ever living, living now, who will live in the future. The soldiers stripped Him naked, leaving Him vulnerable to their vicious wrath, humiliating Him as no Jew of that time ever was naked in front of anyone else. They mocked Him, tortured Him, beat Him: prophesy, tell us who hit You.
We mock Him, we hurt His Heart, we wound Him again and again as we return to our sins like dogs to their vomit. He dies so as to save us, and the western world of Europe and North America that is supposed to be rooted in Christianity rejects Christ and His Church.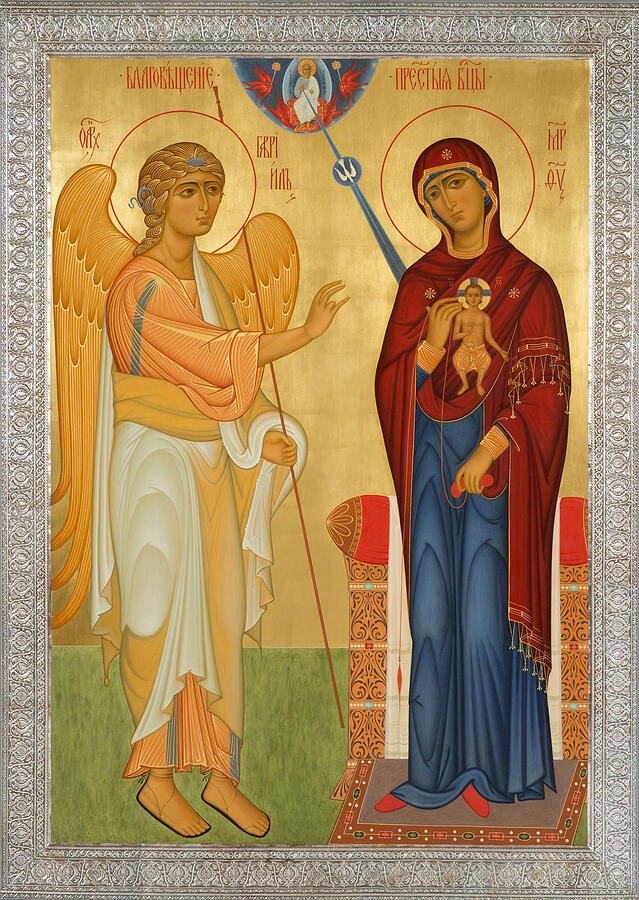 God humbled Himself so as to be conceived in the womb of a woman and become fully human. God humiliated Himself, allowing Himself to be victimized as so many innocents have been victimized, allowing Himself to be beaten and tortured as so many people have been. God entered into the depth of our pain, the dying process that each of us will undergo, so as to sanctify, bless each step of our lives, from conception in the womb as a tiny zygote to the last breath taken on earth.
When the Paris fire department's chaplain arrived and saw the situation of Notre Dame's roof on fire, he went inside to retrieve two items: the Crown of Thorns said to have been worn by Jesus, and the Blessed Sacrament. In a church filled with art and sacred relics, those are the two items that the priest went after:  Jesus Christ Himself, Who lives here in our church in the tabernacle, and those thorns of Adam's curse that pierced the head of Our Lord, causing blood to pour down His face and neck, causing every nerve in His scalp to turn into blazing fire. If you look at the photographs of the Man on the Shroud of Turin, you can see the suffering He endured, the lashes on His back, the blood pouring out, His wrists and ankles where the iron nails were driven through to hold His body in place on the cross and prevent Him from speaking much. On the Cross, Jesus pulls Himself up seven times, gathering air in His tortured lungs, trying to expand Himself so as to speak. Those seven sentences are the Seven Last Words –
Father, forgive them, for they know not what they are doing — they: the Roman soldiers, the Sanhedrin who illegally condemned Christ to death, violating Jewish law, Pilate – they don't really understand the role that they are playing in the salvation of the world, nor do they understand that they are mocking, torturing, and crucifying the Son of God. Rather like certain bishops who covered up crimes committed by messed up priests and bishops, rather than face unpleasant questions from the police and the media. In the first case, the Jewish and Roman authorities murder the Messiah; in the second case those bishops have deeply wounded the Body of Christ by ignoring victims and their families and hiding incredibly horrible sins. Poor Jesus – we have crucified His Sacred Body again.
In the midst of incredible suffering, fear, and humiliation in front of the crowd, one thief cries out to Jesus in complete, absolute faith: Remember me, O Lord, when You come into Your kingdom – the prayer we use so much in our liturgy – and Jesus responds with the 2nd word – Amen I say to you, today you will be with me in paradise. Our Jesus loves us so much that the repentance of that thief, the trusting faith of that thief, destroys all the punishment due to him for the sins that put him on that cross and instead our Savior opens the doors of paradise. The New Adam rescues His first redeemed one from the Old Adam, and it is not a leader, an apostle, but a thief. My sins are enormous – everyone's sins are enormous because no one here has not sinned except the small children – but Jesus extends His mercy in the sacrament of confession to us, obliterating our guilt, lifting us up out of sorrow and regret and offering us the open doors of heaven – but we have to be sorry, we have to repent, we have to turn away from the garbage of sin, and move forward with the pierced hands of Jesus showing us the way.
3rd – Behold your son: behold your mother.   John, the pure teenager who loves Jesus with all his heart, is devastated at watching His beloved teacher die such a death. Mary, the all-pure, immaculate, holy Mother of God, has her heart torn open at the sight of her baby Boy, her only Child, murdered so slowly and in such an awful way. And here we see Jesus' heart, the heart that weeps over all victims of suffering – sexual abuse, mental abuse, emotional abuse, physical abuse, victims of war, victims of disease, victims of famines that are so often caused by governments today, victims of violence – His holy heart weeps for these two who love Him and He cares for them – His widowed mother has no one to help her, but now she has John. John felt an orphan though he had a human family, but now he has care of Christ's mother. To this day we call Mary our Blessed Mother – she is our mother, the mother of all Christians, the mother of priests, the guardian of nuns, the mother who perpetually prays for all her children in Christ's Body the Church as she herself revealed in her icon that is still venerated today in Rome, the icon this church is named for. Our Blessed Mother appeals to us now – behold My Son and your Lord – look upon Him Whom you have pierced with your sins and be sorry, repent and return to Him through the doors of confession, feed on His Body and Blood in Communion, and always, embrace My Son again – and to us, the faithful she cries – teach others, those who have wandered away, those who never knew Him, those who know only a distorted vision of Jesus and the Church, bring them here, lead them to my beloved Child, the pierced Lamb of God.
4th – My God, my God, why have you forsaken me? Psalm 22, the great lament. In this cry, we know that Jesus understands when we feel abandoned, when the pain is too much, the isolation from others too great, the darkness of addiction or disease or old age or loneliness is so overwhelming. Jesus most truly does understand our pain – Cardinal Dolan of New York City told of a parishioner he went to as a young priest, a Mr. Marsh, – a handsome athlete felled by a massive stroke. He could only communicate by eye blinks and eye motions. Despite this, he was a patient man, quiet and content. Fr Dolan would take Holy Communion to home and visit with husband and wife afterward. But one day, Mrs. Marsh went out into the kitchen for something, and suddenly Mr. Marsh became agitated – blinking his eyes furiously. But the priest had no idea what the paralyzed man was trying to say.    Mrs. Marsh returned, and Fr. Dolan said "Margaret, something's terribly wrong. He's blinking his eyes like crazy." Mrs. Marsh looked up and said, "Oh, Father. Please move to the right, you're blocking his view." And the priest said, "What view? There's a wall behind me." And Mrs. Marsh said, "No, Father, you're in the way. With you standing there, he can't see the crucifix on the wall."
In the image of Jesus, covered in blood, pierced with nails, His side torn open by the lance of the Roman centurion, in that image nailed to the wall of their home, Mr. Marsh got his strength.
Yes, Jesus was only crucified for six hours.  Yes, Jesus' Passion was only from Thursday night through Friday afternoon, not for years – but what a Passion, what suffering, what mystical suffering on top of physical suffering as Jesus looked into the darkness of human sin, recoiling from it in the garden of Gethsemane, but then His human and divine wills united in determination to endure this both to save the Old Adam of humanity and open the doors to redemption/ But also to understand as no one can ever understand what it means to be suffering and face darkness, because He did not have to, He CHOSE to, He does this so that whenever a person says, Oh God, it's too much, He replies, Unite your suffering to My suffering, your Cross to My cross, your pain to my pain and know that I understand you, unite your suffering to my suffering and together we will save the souls of this generation who stand in great need as Saint Paul himself writes to us in Colossians, chapter 1: Now I rejoice in what I am suffering for you, and I fill up in my flesh what is still lacking in regard to Christ's afflictions, for the sake of his body, which is the church.. Of those around the cross, only a few understood that He was quoting the opening line of Psalm 22; instead they think He is calling for Elijah the prophet. But Jesus understands every person suffering any kind of suffering who begins to think, has God heard me? Yes, He has – here is the rest of what Jesus could not say due to exhaustion and lack of oxygen, Psalm 22 predicts the crucifixion itself and Jesus' great agony:
My God, my God, why hast thou forsaken me?     Why art thou so far from helping me, from the words of my groaning? 2 O my God, I cry by day, but thou dost not answer;     and by night, but find no rest.  I am poured out like water,     and all my bones are out of joint; my heart is like wax,     it is melted within my breast; 15 my strength is dried up like a potsherd,     and my tongue cleaves to my jaws;     thou dost lay me in the dust of death.  a company of evildoers encircle me;  they have pierced my hands and feet—17 I can count all my bones— they stare and gloat over me; 18 they divide my garments among them, and for my clothing they cast lots.     Jesus most definitely understands our pain, our loss, our fear, our anxiety, our despair, everything.
5th – I thirst  He has had no food, no water, since the Last Supper. He is worn out as the psalm says, poured out. But it is not water He wants. He thirsts for souls, for people to hear His voice, to know His voice. With victims of all kinds, He thirsts for justice for them. With the poor He thirsts for better conditions. With the rich He thirsts for the wealth of the gospel which is all that they should be focusing on instead of vaunting their latest marriage or jewels or trendy cause. In a world where the average annual salary of a man who chases a basketball around an indoor court is $6.2 million while the average salary of police officers who put their lives on the line every single day outdoors is $60,000, Jesus thirsts for sanity in a world whose values are totally crazy. He thirsts for us – look at the crucifix on the wall and picture those two words painted on the left side – I thirst. Many people in our church stop there after receiving Holy Communion and touch the base of His cross – He thirsts for our love. Can I embrace His cross? Can I embrace my cross? Can I embrace Him Who is thirsting for me?
6th  – Father, into your hands I commend my spirit. Jesus trusts absolutely in the darkness of that afternoon, when the sun was blocked, that the Father awaited the Son, that He was returning to His full existence as Second Person of the Trinity, that this was not only over, but truly accomplished. He will soon be dead, but His mission has been completed: to become one of us while offering us redemption; to establish His Body on earth in the Church; to bring healing and hope to a broken world; to suffer and die so that the blood of the God-Man will open the gates of heaven closed for so many centuries since original sin took place. In saying this it is important to recall an old saying of Catholic spirituality:   "Christ has no body now but yours. No hands, no feet on earth but yours. Yours are the eyes through which He looks with compassion on this world. Yours are the feet with which He walks to do good. Yours are the hands through which He blesses all the world. Yours are the hands; yours are the feet; yours are the eyes; you are his body. Christ has no body now on earth but yours."
7th word – It is finished   — what is finished? His sacrifice. He remains in control of His destiny up to the very end. He lowers His head, He sags on the cross, He lets the last air out of His bruised lungs, He lets his muscles stop the struggle to breathe, He sinks down, His sacred head resting on His chest, and He dies. The earth quakes in rebellion at seeing its creator suffer so much; the veil in the temple is ripped apart from the top, meaning the hand of God has seized it and torn it; And here is the end of Psalm 22:
29  to him shall all the proud of the earth bow down;  before him shall bow all who go down to the dust,     and he who cannot keep himself alive. 30 Posterity shall serve him;  men shall tell of the Lord to the coming generation, 31 and proclaim his deliverance to a people yet unborn,  that he has wrought it.
The great cathedral of Our Lady caught fire on Holy Monday. People around the world watched as the flames consumed the enormous beams of the roof and brought down the spire crashing into the nave. By Holy Tuesday millionaires were promising millions of euros to pay for its repair and restoration, and the president of France claimed it would be rebuilt in five years. But the renovations of the cathedral have been dragging on for years; the archbishop of Paris, the priests, the staff have been begging for years for money to fix the collapsing buttresses, walls, ceiling, and that doomed spire and they got only a portion of what they needed. One big disastrous fire and suddenly the rich stepped forward because now, almost too late, they and others now know how important Note Dame and its sacred contents are to Paris, to France, to civilization. That is a metaphor for our broken world – it barely knows how important Christ is to it, and I fear too many will realize how important Good Friday and Easter are to them, until it is almost too late.

Only part of the roof came down into the nave of Notre Dame, when the great spire came crashing down. Most of it landed at the altar. When the doors of Notre Dame were opened, two things could be seen above the wreckage that fell onto the floor. The great golden cross above the high altar was still there, bright in the darkness, and at its foot, the statue of the Pieta, the Mother of God with the dead body of Christ in her lap, her arms outstretched to us. The cross endures. The mystery of the Church of Jesus Christ, embodied in Catholicism, endures. That gold cross was still there, enormous, shining in the darkness. Let us never despair, for Christ understands us. Let us not give up sharing His message, for Jesus thirsts for souls. Let us keep getting up from our sins and moving forward, as Jesus moved forward in the streets of Jerusalem today. Let us be His hands, His eyes, His feet, to bring His compassion, His blessings, so as to bring souls into the embrace of His wounded but still alive body, the Church. The gates of heaven are open – let us be brave enough to do what is necessary so as to be able to walk through them.