The establishment of  Communism in Central Europe, 1945-1990, produced many martyrs from the Catholic Churches, both Latin and Byzantine.  These martyrs from our Church have been beatified by the universal Catholic  Church:
Blessed Theodore Romzha, the last public bishop of the Eparchy of Mukachevo until 1991, assassinated in 1947.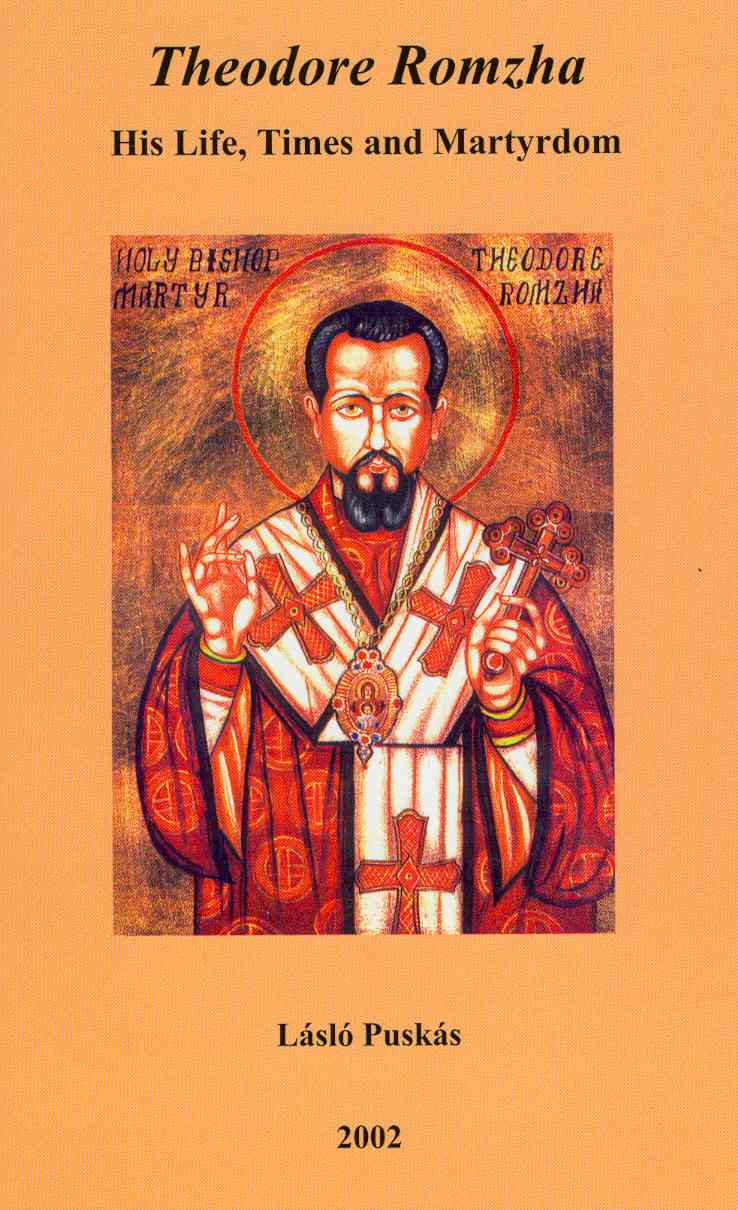 $25, 340 pages,  a detailed biography of our first bishop-martyr. Survivors of communist prisons told me that without him, there would be no Greek Catholic  Church today in the territory of the Eparchy of Mukachevo. https://ecpubs.com/product/theodore-romzha-his-life-times-and-martyrdom/
Booklet of 30 pages, $1.50 http://www.byzantineseminarypress.com/search.php?search_query=romzha&x=0&y=0
Pamphlet, $0.25 each, http://www.byzantineseminarypress.com/39-bishop-theodore-g-romzha/
Blessed Paul Peter Gojdich, Bishop of Presov, died in prison, 1960. He had no desire to become a bishop, but the Holy Spirit decided otherwise. Pope Pius XI prophesied to him that he would carry a heavy cross. He was persecuted in the First Slovak Republic for his defense of the Jews and Rusyns, and by the communists of Czechoslovakia for refusing to convert our Church to Russian Orthodoxy. In prison, God gave him the stigmata and the gift of bilocation, being present to dying prisoners in one place even though the guards saw him in another cell.
$2, 40 pages, by Fr. Athanasius Pekar, OSBM. http://www.byzantineseminarypress.com/search.php?search_query=gojdic
Holy card with prayer, $0.13 each Seminary Press
10″ x 8″ icon, $45 , http://www.byzantineseminarypress.com/icon-bishop-confessor-paul-p-gojdich-large/
Blessed Methodius Dominic Trcka 
Born a Roman Catholic, he fell in love with the Byzantine Church as a young priest, and founded the Byzantine Catholic Redemptorists in Czechoslovakia. He died in prison of pneumonia in 1959, contracted after he was put into a freezing cell for the "crime" of humming a Christmas carol in the hearing of a communist guard. The icon shows the title of the carol which resulted in his death.
https://redemptorists.net/features/blessed-methodius-dominic-trcka/
7″ x 9″ icon, $15, http://www.byzantineseminarypress.com/search.php?search_query=trcka+&x=0&y=0
Blessed Basil Hopko 
Pamphlet, $0.25, http://www.byzantineseminarypress.com/41-bishop-basil-hopko/
Read his heroic life of suffering here: https://www.eparchyofpassaic.com/hopko.html
or here: https://en.wikipedia.org/wiki/Basil_Hopko   OR  here:
https://www.catholicnewsagency.com/martyrology_entry.php?n=3384
For his refusal to abandon our Church for Russian Orthodoxy, the communists subjected him to 122 days of unending torture, but he never yielded. In 1968 our Church was partly restored, but he was not allowed to serve as the bishop because he was of the "wrong" nationality. He died in 1976, and is a heavenly advocate for those who are victims of nationalism or of depression. Tests conducted on his relics showed that he had been slowly poisoned by someone who stealthily put arsenic into his food over time, meaning someone close to him had killed him for the communist regime.
Venerable Petro Oros, shot in 1953 
He was a secret bishop, consecrated by Bl. Theodore Romzha in 1944. A communist policeman executed him in the main street of Irshava in 1953. He had successfully conducted an underground ministry for four years until his capture.
https://en.wikipedia.org/wiki/Petro_Oros
Venerable Alexander Chira, +1983 in Soviet Kazakhstan 
Photo taken in Karaganda, Kazakhstan 
Booklet, $1, with photos,  http://www.byzantineseminarypress.com/bishop-alexander-chira-prisoner-of-christ-by-a-pekar-o-s-b-m/
A fascinating life of priest secretly consecrated as a bishop in 1944 by Bl. Theodore Romzha, who spent years in the Gulag, then served as a missionary in Soviet Central Asia ministering to both Byzantine and Latin Catholic exiles.
http://www.carpatho-rusyn.org/spirit/chira.htm
http://www.regi.mindszenty.katolikus.hu/koszoru/chira_sandor.html  – in Hungarian but Google Translate does a pretty good job of putting it into English.