Basic Byzantine Bookshelf for Busy Byzantines
The preparation of committed lay leaders and the presentation of a convincing articulation of the Christian vision of man and society remain a primary task of the Church in your country; as essential components of the new evangelization, these concerns must shape the vision and goals of catechetical programs at every level.
                                                              -Pope Benedict XVI to American Bishops, 2012
These titles of books and DVDs should be on your bookshelf, and read frequently, so as to deepen your understanding of the gift we have been given in the Byzantine Catholic Church, and to help develop laity who will fulfill the wishes of the Our Lord that we be strong in Faith and that we proclaim this Faith!
Books to Answer "Are You Really a Catholic?"
101 Questions on Eastern Catholic Churches. This book is exactly what it claims to be, and does a good job of providing good answers to all those questions that arise about just what an Eastern Catholic is, how we pray, and how we fit into the Universal Church.
http://www.paulistpress.com/Products/4441-9/101-questions–answers-on-eastern-catholic-churches.aspx
https://www.amazon.com/Questions-Answers-Eastern-Catholic-Churches/dp/0809144417
The Catholic Eastern Churches – The main page has a short history of how most of the Churches were formed by various Unions, and the left hand side has a complete list of links that give the history of each individual Church (ours is "Ruthenian"), and locations today.    http://www.cnewa.org/default.aspx?ID=54&pagetypeID=9&sitecode=HQ&pageno=1
Eastern Catholics in the United States of America This little (32 pp) book comes from the United States Catholic Conference of Bishops: who could ask for a better reference to answer the eternal question: "Are you really Catholic?" It's a good booklet to give to the relatives, co-workers, neighbors.
Provides an overview of the four dominant Eastern Catholic traditions in the US: Antiochian, Alexandrian, Armenian, and Byzantine. Uses the encyclical Orientale Lumen as its building block "to promote a greater understanding of the experience of Eastern Catholics in this country." This book is inexpensive but attractive enough to both put into parish vestibules or provide for parishioners to keep a few on hand at home for those inevitable questions.
Available at http://store.usccb.org/eastern-catholics-in-the-united-states-p/5-287.htm.
One of the classic works explaining Byzantine Catholic spirituality, written by the famous Archbishop Joseph Raya. A book to read over and over again.
https://ecpubs.com/product/face-of-god-by-archbishop-joseph-raya/
DVD ON ICONS – THE MAIN ART FORM OF THE BYZANTINE CHURCHES 
The spiritual and cultural dynamics of early Christianity which eventually gave rise to the art of the Byzantine Icon are presented in this DVD. Offers the viewer a more mature understanding of Byzantine Icons by providing the foundation upon which the terminology, concepts, and theology of iconography are based.
https://store.godwithusbooks.org/icon-prints-books-dvds/reflection-of-glory/
THE MOTHER OF GOD IN THE CATHOLIC EAST
The Icon of the Mother of God of Vladimir graces this booklet with an elegantly written meditation. By, Gaetano Passarelli •Gloss, Full Color, 24 pg  https://store.godwithusbooks.org/icon-prints-books-dvds/mother-of-god/
OUR LORD JESUS CHRIST 
he renowned and beloved Icon of Christ graces the cover of this booklet while the words within provide an inspiring meditation. An excellent addition to your personal prayer and reflection time. Consider for use in a prayer or study group; purchase as gifts. Excellent gift to parishioners for Pascha, First Sunday of the Great Fast, Parish patronal Feast Day, a Feast of Christ Incarnate, Father's Day, parishioner anniversaries, purchase the set—Christ the Savior (GW158152) and Mother of God (GW018169) as a gift for a couple at Crowning, etc.
https://store.godwithusbooks.org/icon-prints-books-dvds/christ-the-savior/
Exactly what it says it is – a handy, easy to read, but thorough exploration of Eastern Catholic worship, liturgical life and prayer life. https://www.amazon.com/Eastern-Catholic-Churches-Introduction-Spirituality/dp/0814620477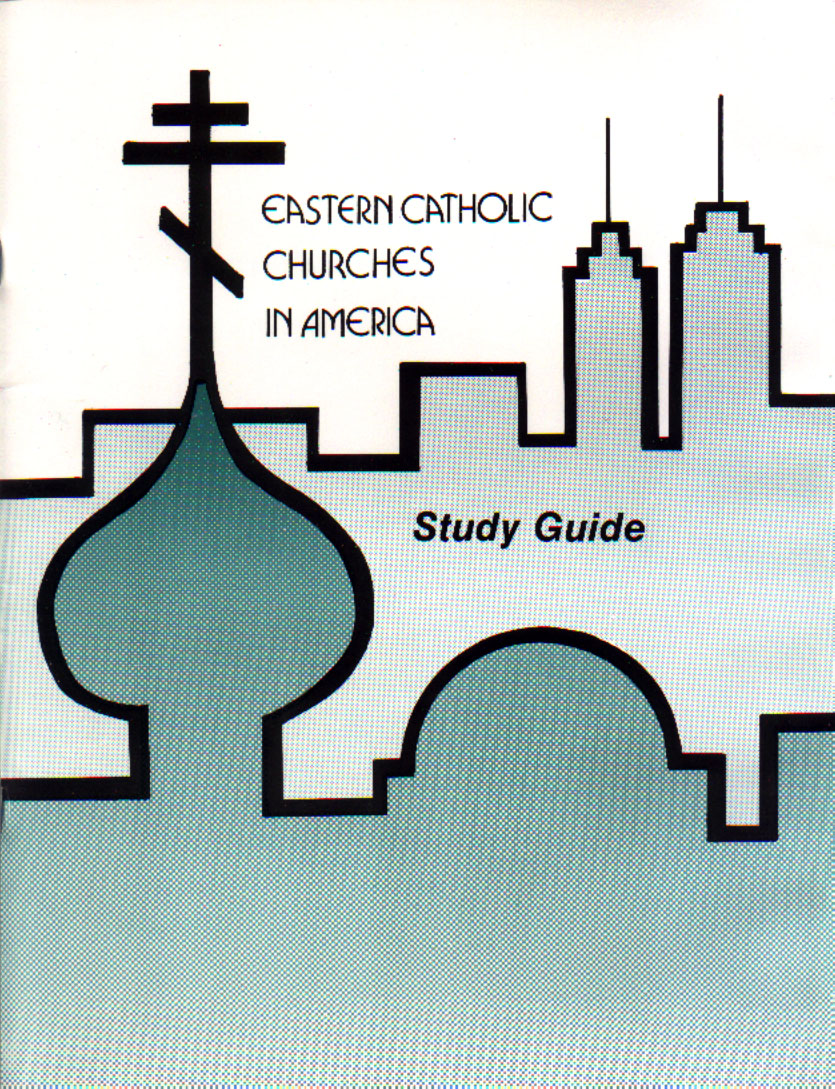 A little outdated, but still a good overview of Eastern Catholicism in the USA, covering the main Churches which follow the Byzantine Rite.
https://ecpubs.com/product/eastern-catholic-churches-in-america/
A great overview of the different Eastern Catholic Churches which are flourishing in America, with history, explanations of origins, and the challenges of being Eastern and Catholic in the United States. $18.95
https://store.godwithusbooks.org/the-eastern-church/american-eastern-catholics/
MORE TITLES AND LINKS WILL BE PROVIDED SOON!