Pope Pius XII, pontiff from 1939-1958 
Want to hear Pius' voice? This film shows his address in English to Allied soldiers who liberated Rome in 1944: https://www.youtube.com/watch?time_continue=149&v=tGzOwh8TjhY
I did a presentation for university students on Sept 25, 2018, on Pius XII and the Holocaust. The video of my talk will be on You Tube on our CAFE Catholic Apologetics Evangelization Fellowship Channel in Fall 2018  'https://www.youtube.com/channel/UCcwCLAZoVjRCyUCB96m-cJQ
Below are first books, and then good internet resources, that cover his years as nuncio in Germany (Munich 1917- 1920, Berlin 1920-1929), Secretary of State at the Holy See, and Pope. These deal with the Empire, Weimar Republic, and the National Socialists (Nazis) in Germany,  and his actions on behalf of German and Italian Jews while working in the Vatican Secretariat (1929-1939), and his actions as Pontiff during the War (1939-1945). Pius himself questioned if he did enough, or spoke out enough, but at the same worried that if he was too open in speaking, that the Jews would suffer even more.
These should all be of interest to anyone who wants to read more on the topic. I have to say that I am amazed at the amount of misinformation, or outright lies on the internet, e.g., "the Catholic Church did nothing to help Jews during the Holocaust."  It is a difficult area to read about, but important given the rise in Anti-Semitism in Europe and elsewhere, and the actual denying that the Holocaust even took place! 
Pius XII Resources
Bartley, Peter. Catholics  Confronting Hitler.
Blet, Pierre, ed. Pius XII and the Second World War
Bottum and Dalin, eds. The Pius War: Response to the Critics of Pius XII
Caroll-Abbing, John Patrick. But For the Grace of God. Autobiography includes this priest's work in the Italian Resistance and the rescue of Jews in occupied Italy 1943-44.
Chadwick, Owen. Britain and the Vatican in the Second World War.
Dalin, Rabbi David. The Myth of Hitler's Pope
Gallo, Patrick. Pius XII, the Holocaust and the Revisionists.
Harris, Robin. Stepinac: His Life and Times
Krupp, Gary, ed. Pope Pius XII and World II: The Documented Truth.
Kurzman, Dan. A Special Mission: Hitler's Secret Plot to Seize the Vatican and Kidnap Pius the XII.
Pacepa, Ion. Disinformation: Former Spy Chief Reveals Secret Strategies for Undermining Freedom, Attacking Religion, and Promoting Terrorism (former spy chief for Romania and USSR)
Riebling, Mark. Church of Spies.
Rychlak, Ronald. Hitler, the War, and the Pope.
Sanchez, Jose. Pius XII and the Holocaust: Understanding the Concerns.
Tittman, Harold.  Inside the Vatican of Pius XII: Memoir of an American Diplomat During World War II.
"Roman Convents Opened to Jews During the Occupation: Orders from the Top. L'Osservatore Romano, 30 January, 2015, p. 2.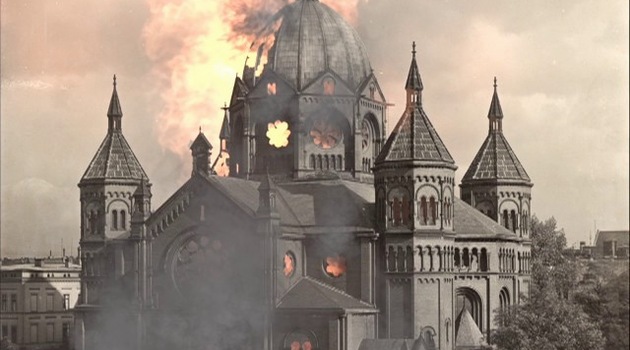 Breslau Synagogue ablaze, Kristallnacht, 1938 
http://www.thepublicdiscourse.com/2011/02/2662/  Did Pius XII Lie to Save Jews? Details about the roundup of Jews in Rome in 1943
http://college.holycross.edu/faculty/vlapomar/hiatt/hiatt.htm  Catholics and the Holocaust Hiatt Collection at Holy Cross College with links to other sites (some of which are not the best, FYI)
http://www.dailycatholic.org/issue/2001Feb/feb17nr1.htm  New Book Defends Pius XII, Attacks Critics
http://www.nizkor.org/hweb/imt/nca/nca-01/nca-01-07-index.html  Nizkor Project: Timeline with links on how Nazis came to power in Germany   This link:  http://www.nizkor.org/hweb/imt/nca/nca-01/nca-01-07-means-34.html    includes information on attacks against the Catholic Church
http://www.asianews.it/news-en/Pius-XII,-the-Pope-who-opposed-Hitler-17173.html   Deals with the Black Legend of Pius XII
https://www.firstthings.com/search?q=pius+xii+   Links to articles in First Things on Pope Pius XII, the Nazis, the Holocaust and his role as pope during the war.
https://contemporarychurchhistory.org/2015/06/papal-rescue-in-wartime-rome-a-new-documentary-and-commentaries/   Doino, William. Papal Rescue in Wartime Rome
http://www.ncregister.com/daily-news/claims-that-pius-xii-was-framed-gaining-support Claims that Pius XII was framed gaining support – 1
http://www.ncregister.com/daily-news/claims-that-pius-xii-was-framed-gaining-support-part-2
Pave the Way Foundation: http://legacy.ptwf.org/members/vatican_documents.aspx.
-Contains the entire French-language series of wartime Vatican documents and letters 1939-1945;
-relevant copies of L'Osservatore Romano in Italian, 1938 – 1945;
-19 video interviews with researchers or co-workers; and  120 collections of documents from the Holy See, Germany, Italy, the American OSS, letters, testimonies of survivors;
-Argentina's role in hiding Nazi war criminals; radio interviews;
-article on the concordat of 1933. You have to register to use the site, but there is no fee.
https://www.firstthings.com/web-exclusives/2012/02/kevin-madigans-offenses-against-history   Critique by William Doino of the various charges against Pius XII during the war
https://www.ewtn.com/library/issues/pius12gs.htm The Good Samaritan: Jewish Praise for Pius XII
http://www.newsweekly.com.au/article.php?id=2848  The Cold War How Moscow framed Pope Pius XII as pro-Nazi
http://www.ewtn.com/library/CHISTORY/germjew34.htm In 1934 The Pope Hired a German Jew
https://www.catholicculture.org/culture/library/view.cfm?recnum=3315  Pius XII: The Martyrdom of Silence
https://www.catholicculture.org/culture/library/view.cfm?recnum=3593 Graham, Robert. Pius XII's defense of Jews and Others 1944-45
https://www.catholicculture.org/culture/library/view.cfm?recnum=3926 Dalin, Rabbi David. Pius XII Saved More Jews Than Schindler
http://paulonpius.blogspot.com/2011/09/abbot-marcone-and-croatia.html  Abbot Marcone and  Croatia
http://michaelhesemann.info/11_5.html  Pius XII and the Armenian Genocide
http://www.newoxfordreview.org/reviews.jsp?print=1&did=0508-bemis  Hitler's Mad Plot to Sack the Vatican
http://www.catholic.co.il/index.php?option=com_content&view=article&id=302:martin-gilbert-on-pope-pius-xii&catid=41&lang=en&Itemid=148 Martin Gilbert on Pope Pius XII
http://www.thedailybeast.com/the-vatican-spys-plot-to-kill-hitler
https://www.catholicnewsagency.com/news/historian-catholic-church-pivotal-in-rescue-of-roman-jews
https://www.catholicworldreport.com/2014/04/03/john-xxiii-and-the-jews/
http://sib-catholic.ru/podobno-noevu-kovchegu-tyisyachi-bezhentsev-v-papskih-dvortsah-kastel-gandolfo-vo-vremya-ii-mirovoy-voynyi/  Russian article on refugees in Castel Gandolfo
http://www.lastampa.it/2013/01/23/vaticaninsider/eng/inquiries-and-interviews/pius-xii-the-diplomatic-pope-who-was-excommunicated-by-the-nazis-3ljnyT98RbLcKtepv5HNNM/pagina.html
https://insidethevatican.com/magazine/people/interview/flight-defeat-helped-germans-escape-europe/ Flight from Defeat: Who Helped the Germans Escape Europe?
https://www.catholicculture.org/news/headlines/index.cfm?storyid=11330   Holy See's Apostolic Visitor intervened on behalf of Croatian Jews
file:///C:/Users/hp15/Documents/5601-10936-1-SM.pdf     Ventresca, Robert " The Vatican Was For Us Like a Mountain"Reassessing the Vatican's Role in Jewish Relief and Rescue during the Holocaust (2014).