Peter and Paul, the two pillars of Christ's Church 
Today is the feast of Saints Peter and Paul. In many nations this is a holy day of obligation, and it is the patronal feast of the diocese of Rome and of the Bishop of Rome, the Pope.  They were executed during the great persecution launched by Nero: St Paul was a Roman citizen (not everyone was!) and was beheaded; Peter asked to be crucified upside down, so as not to die in the same position as Jesus, showing his humility. Saint Augustine wrote of today:
"Both apostles share the same feast day, for these two were one; and even though they suffered on different days, they were as one. Peter went first, and Paul followed. And so we celebrate this day made holy for us by the apostles' blood. Let us embrace what they believed, their life, their labors, their sufferings, their preaching, and their confession of faith."
The tradition in Rome has been that they died on the same, and definitely the ancient Church honored them both on June 29th. We know this from written evidence in 258 AD, which is very early indeed! And in the ancient world, written material came after oral histories had been around for a while.
Recent excavations have confirmed that the remains in the tomb at Saint Paul's basilica are from the right time period and right body structure, the same for Saint Peter's famous tomb deep beneath the High Altar of the basilica of Saint Peter's. You can read the fascinating story of how Peter's bones were authenticated in these two books: The Fisherman's Tomb by John O'Neill, and this one by the archaeologist who made the discovery, The Tomb of Saint Peter by Margherita Guarducci. That Peter's bones were right where they belonged is a visible proof of Sacred Tradition!
The famous Graffiti Wall of Saint Peter's tomb, deep underneath the basilica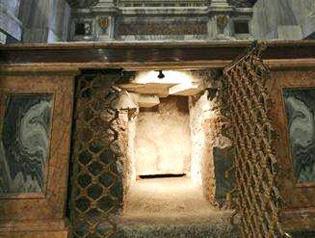 Saint Paul's tomb, under the high altar in Saint Paul Outside the Walls basilica 
The Orthodox Ecumenical Patriarchate sends a delegation to Rome today for this event. The visit is reciprocated on November 30, for the feast of Saint Andrew, patron of the archdiocese of Constantinople.