This n0vena was so well-attended in Buffalo, NY, that TV stations used to broadcast the first night from St. Michael's church in downtown Buffalo or my home parish, St. John the Baptist in Kenmore. It was composed by a future martyr, Fr. Marcello Mastrilli, to whom St. Francis Xavier appeared after the young Jesuit prayed for his intercession to restore his health. He was instantly healed, and given the strength to resume his missionary work. Thus this novena that he composed 400 years ago remains enormously popular.
By the way, he is the real priest who went to Japan in search of the apostate Father Ferreira, the story now showing in theaters in the film Silence. Unlike the two priests in the move, Father Mastrilli did not waver in his faith when suspended for three days over the foul pit, and died for Christ at the hands of the shogun of Japan.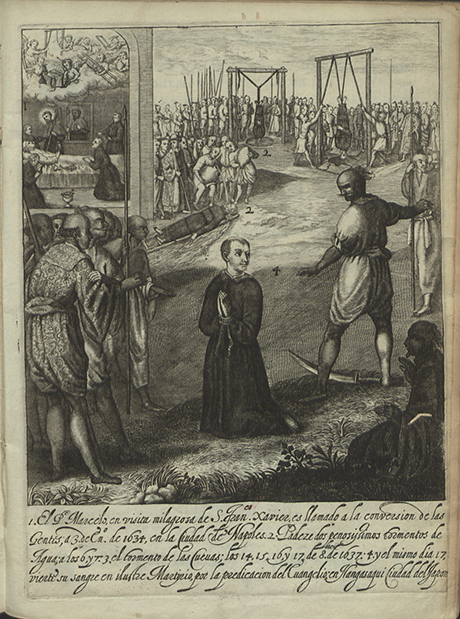 The Martyrdom of Fr. Mastrilli, Oct. 17, 1637. 
The Knights of Columbus ask that this year people use the prayer below implores God's help through Xavier's intercession for the suffering Christians of the Middle East. From Egypt to Iran, people are suffering for believing that Jesus is the Son of  God and our Redeemer. May the hearts of jihadists and others be converted!
A NOVENA OF GRACE AND SOLIDARITY
God our Father, as St. Francis Xavier and countless of your missionaries traveled to the ends of the earth, impelled by the love of Jesus Christ, give me the grace to rely entirely on you, confident in the knowledge that you raise up the humble and the lowly. May I be united with your saints in offering you my humble tribute of thanksgiving and praise. I implore you to grant me, through your mercy, the blessing of living and dying in a state of grace. I also ask this same blessing for all those throughout the world who suffer persecution because of their faith in you. O God, you were pleased to gather to your Church the peoples of the world by the preaching and miracles of all your saints; mercifully grant that I may imitate their virtues and so bear witness to the Gospel of your Son, Jesus Christ, who lives and reigns for ever and ever. Amen.