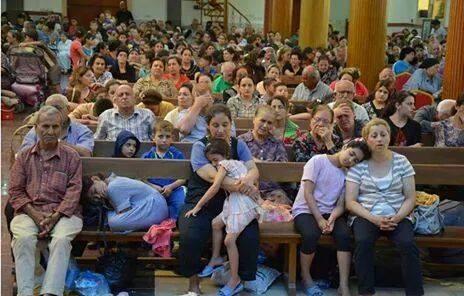 Inside a Catholic church in Erbil, Iraqi Kurdistan – Christian refugees from across the north
Remember your school lessons: the Fertile Crescent is where civilization began. Ur, Abraham's home, still exists! Now some of the most barbaric forces ever seen are fighting there! And hopes for democracy to take root there seem to be futile, as the republic disintegrates and the prime minister puts tanks on Baghdad's bridges and streets instead of sending them north to fight!
SS. Bartholomew, Jude, and Aramaic-speaking disciples carried the Gospel east to Mesopotamia and Persia (Iraq-Iran), while the Greek communities of Syria were being founded. Now, as we watch the total dislocation of one of the oldest Christian communities on earth, those of the Fertile Crescent,  people asked, you have asked how can I help them? 
a. First one, praying for their relief, and the conversion of governments so as to help them, and an end to jihad.
b. Donations to these agencies who are in the field doing good work now. These are the best places to send money: they have folks on the ground and know how to get help to the desperate fast, and do so in the Name of Christ, in the name of Pope Francis, and of all Catholics. 
– Catholic Near East Welfare Association/ CNEWA http://www.cnewa.org/     They help all Eastern Christians everywhere.
CNEWA, 1011 First Avenue, New York, NY NY 10022-4195.phone, (212) 826-1480, or fax, (212) 838-1344
– Aid to the Church in Need/ ACN http://www.churchinneed.org   Founded to aid persecuted Catholics behind the Iron Curtain, now serving anywhere in the world. They have had people on site in Syria since the beginning.
Aid to the Church in Need • 725 Leonard Street • P.O. Box 220384 • Brooklyn, NY • 11222   (800) 628-6333
Pope Francis today deplored reports of "thousands of people, including many Christians, driven from their homes in a brutal manner; children dying of thirst and hunger in their flight; women kidnapped; people massacred; [and] violence of every kind."
He added: "All this gravely offends God and humanity. Hatred is not to be carried in the name of God. War is not to be waged in the name of God."  Cardinal Filoni, who stayed in Baghdad as papal ambassador in 2003 when other diplomats fled the bombardment and who was considered papabile at the last conclave, will be on his way directly to the battle zones of the north, comforting the Islamic State's victims with his presence in the name of Pope Francis, bringing cash directly to the refugee centers, and putting himself at risk in order to stand with God's people, the true anawim of today.
I wonder if any EU or US politician will show up? And how is this being explained to the American, Canadian, and European families of soldiers who died or were maimed in Iraq just so this would never take place?
Our Lady of Arabia, pray for all those at risk, and obtain grace for those who are suffering, and wisdom for those who have the power to change things.